Greetings from the Chairman
The Japanese Society of Pathology
Chairman: Masashi Fukayama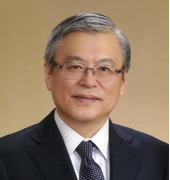 Welcome to the JSP Homepage!
Pathology is a branch of medical science, studying with a focus on how illness develops and contributing to healthcare through pathological examination (post-mortem examination) and diagnosis.
Pathological research has been advancing from two aspects (human pathology and molecular pathology) which are connected closely to each other.
Pathology, located at the interface between clinical medicine and basic life science, lays emphasis on morphological research. The outcome of research in this field has been utilized in pathological diagnosis, as mentioned later. For example, "pathological diagnosis of cancer" does not rely on experience and intuition or inspiration. Unless the mechanism for illness is clarified, we cannot deal with illness.
Pathology can be divided into human pathology and molecular pathology. Human pathology involves relatively practical research, e.g., analyzing the illness in individual patients, identifying themes for basic life science and, conversely, incorporating the findings from basic life science into analysis of individual clinical cases. Molecular pathology, on the other hand, attempts at clarifying the mechanism for illness in detail at the molecular level with the use of cell cultures, animal models and so on. Both fields of pathology set a goal at preventing human illnesses and facilitating their treatment. Researchers in these two fields of pathology are working together to advance pathological research on illnesses.
"Physicians specializing in pathology (pathologists)" are powerful backseat players contributing to healthcare.
Physicians specializing in human pathology seldom appear in front of you, but they are involved in clinical practice through pathological diagnosis and cytodiagnosis of biopsy and operative specimens. They attempt to find a treatment method optimal to individual patients on the basis of histological diagnosis and cytodiagnosis with the use of a microscope combined with molecular pathological diagnosis (checking for expression and abnormalities of molecules playing an important role in illness).
Still more, these physicians check the quality of healthcare provided at hospitals in cooperation with clinicians. There has recently been growing awareness of the necessity of a new system to specify the cause of death occurring unexpectedly during clinical care, and efforts have been made to explore such a system. Pathologists are expected to play a significant role in specification of the cause of death and evaluation of healthcare by means of pathological investigation and post-mortem examination.
Pathology is a subject, the knowledge of which is indispensable for healthcare professionals.
Also during the course of the education, the "bringing forth" of healthcare professionals, pathology plays a role in facilitating a solid understanding of illnesses endorsed by practical aspects. Medical students at universities learn pathology during the period of transition from basic life science to clinical medicine. Through lectures and clinical training at this stage, students learn how organs are altered by illness so that they can imagine pathologic processes taking place within individual patients. Also during the subsequent stage of clinical training, they experience exercises based on pathological diagnosis/autopsy-based diagnosis and are guided to practice self-learning and re-learning of pathology. Close connection to pathology will be kept also when the graduates receive clinical training and later serve as specialists in individual fields of medicine. Thus, pathology supports practical education in medicine.
Please give your support to pathology!
As illustrated above, pathology serves as the base for medicine and healthcare. At present, however, there is a manpower shortage in the field of pathology as compared to the fields of clinical medicine. We need to modify this status so as to promote further improvements in healthcare. Your understanding and support will be heartily requested. Medical students, dental students and trainee physicians are particularly invited to visit the relevant corners of our homepage and to consider pathology as one of the alternatives when selecting your course for the future.